Fergana Valley Tours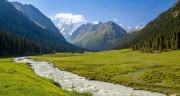 Fergana Valley Tours and Travel Package
Browse below for the best tours and travel packages to Fergana, Uzbekistan. Our Fergana tours and excursions are specially designed to meet travel needs of all travelers. We offer Fergana tours with various travel options: short excursions, one day, multiple day tours and tours by air and by car. Our designed tours offer Fergana's top and must-see attractions, museums, galleries, theaters and folklore shows.
Must-see Places of Fergana Valley
Fergana Valley is a big oasis, with some of the finest soil and climate in Central Asia. The valley includes the territory of three Central Asian countries as Uzbekistan, Kyrgyzstan and Tajikistan. During your trip to Uzbekistan part of the Valley, its highly recommended to see the wonderful silk workshop in Margilan, where silk is made by hand from cocoon to fabric as it has been for thousands of years. Visit Kokand to see Khan's Palace and Friday Mosque. Travel to Rishtan for its ceramics, Chust for their merchants of knives in the bazaar, Andijan for Babur's Park and bustling bazaars.
Note: The road from Tashkent to Fergana Valley goes through mountain pass. In the borderline area, driving through tunnels there are signs "No Photos", where please avoid taking photos or use of mobile phone.
Why Travel to Fergana Valley
The fertile land of Fergana Valley is surrounded by Tangshan Mountains from north and by Pamirs Mountains from south. The picturesque mountains en-route, green orchards, amazing crafts, friendly hospitable people are challenging to explore the eastern part of Uzbekistan which didn't get popular among foreign travelers yet.
Browse latest tours

Discover an unforgettable journey to Wonderful Valley with our incentive tour. This is a good opportunity to visit such cities as Andijan, Tashkent, Fergana, and also to participate in different teambuilding activities.
Tour Highlights
Visit to cities of Tashkent,Namanga, Andijan, Ferghana, [...]

Book Silk Road Uzbekistan trip with local Tour Operator scheduled to start Every Tuesday during high tourist season of 2013 and experience your best holiday in Uzbekistan. 12 days tour program is tailored exclusively for you. It introduces with breathtaking Islamic architecture, interesting crafts, rich culture, ancient history, friendly hospitable people and you have free day in most of cities to explore the area independently.

Journey to Fergana Valley by car, crossing the Qamchik mountain pass. Quick city tours in Kokand, Margilan and Rishtan. Overnight stay in Fergana. Activities include the silk manufacturers' factory in Margilan and ceramics workshop in Rishtan.