Woocarving
About Woodcarving in Uzbekistan
Here you will find information and view photos of Woodcarving in Uzbekistan.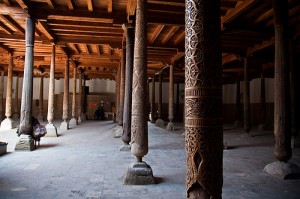 Since ancient times, wood carving is one of the popular arts in Uzbekistan which centers are available in almost all areas of the country. In the manufacture of wood products, especially household utensils, doors, shutters gates, pillars and stands, chests, tables (sandalwood) and other products the high relief pattern is widely used. Woodcarving works created by our ancestors amaze with variety and  richness of ornamentation. Unique examples of this kind of art of the early Middle Ages were found in the archaeological sites of such regions as Yumalaktepa- Surkhandarya, Bukhara, Khiva, Samarkand and Karshi.  Khiva, Bukhara, Samarkand, Tashkent and Fergana have been and still remain acknowledged centers of wood carving in Uzbekistan . Each school is distinguished by its technique and carving patterns. Ornamental wood trimming is one of the oldest types of applied art of Uzbekistan, which is transmitted by masters from generation to generation. Art of wood carving distinguishes three basic styles: the "Bagdadi", "Islimi" and "Pargori." "Baghdadi" style – ornaments of geometric patterns. "Pargori" – flat relief carving, which name comes from the word "compasses". Carver does ornaments in the form of circles, triangles, squares with a ruler and compasses. "Islimi" – a complex pattern of floral character. Initially, the master draws a pattern on this paper, and only then applies on the tree. Various products made ​​by craftsmen from different types of trees, it's elm, walnut, Chinara, weeping willow, apricot tree, mulberry. All kinds of trees undergo drying treatment before using, i.e they are placed in a dry, warm room for a long time.
Kokand. Masters of woodcarving.
Towns and villages of the Ferghana Valley has long been famous for their skilful woodcarving, and  Kokand is considered to be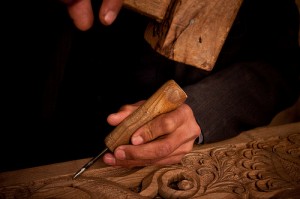 one of the recognized centers of this craft. The origins of the Kokand style wood carving originated from the works of masters of XVIII-XIX centuries, who created the famous towers of the cathedral Juma mosque and carved wooden decor lace in the Khudoyar Khan palace. One of the great representatives of the woodcarvers in Kokand is usto Kadyrzhan Hajdarov – the representative of the family dynasty. There is a museum dedicated to the life and work of the great master on the Khudoyar Khan palace grounds in Kokand. Usto Abdugani Abdullayev is considered to be a master of the new formation of the famous Kokand woodcarvers school. His remarkable work are known in the Republic of Uzbekistan, and far beyond. His talented works can be seen in the grand architectural projects, such as: Memory and Honor Square (Tashkent), the Museum of Burkhaniddin Marginani (Marghilan), the Museum of the victims of repression (Tashkent), memorial and architectural complex of Imam Muhammad ibn Ismail al-Bukhari and many other constructions.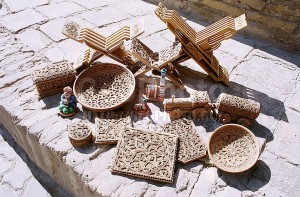 Since ancient times, Tashkent was famous for its craftsmen, carvers, but the art school was formed only in the mid XIX, the beginning of XX century. The use of wood carving design in architectural structures and household goods becomes incredibly popular. Carved cabinets, sideboards, tables, chairs, come into use in  the everyday life of Tashkent, stylized "Eastern" multidimensional tables with delicate arabesque ornamentation are very popular. Fine threads was used for non-traditional products design  - kits, cases, various suitcases, cigarette cases, etc.
Karakalpakstan
Woodcarving in Karakalpakstan was associated with the decoration of the nomadic dwellings – yurts, decorated with carved doors, interior items – lockers, stands for food, dishes, musical instruments, harness, tools. Karakalpakstan carving ornamental character is dominated by geometric, floral and zoomorphic motifs, often archaic type. The wood was painted with a dark brown and black tones.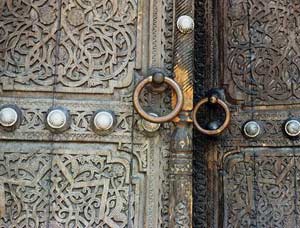 Laukh – sliding wooden stand for the books – one of the original products ever created by Uzbek carvers. This complex structure is made from a piece of wood without a single nail, and without the use of glue or joints. Skilled craftsmen can produce ten – twelve levels laukh. On such a stand but books can be placed pencils, small scrolls of paper, notebooks, bookmarks for books and other supplies for reading and writing. Tashkent art historian Shahal Shayakubov believes that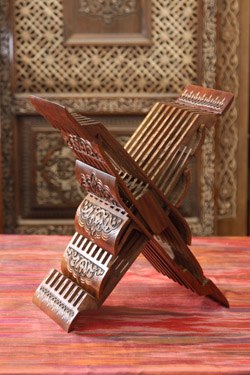 laukh as a pedestal for the Koran appeared around the same time as the Qur'an itself. Compared with the modern books that can easily be kept in the hands and turn over during the long prayer, sacred ancient tomes were much larger and much heavier. In Samarkand, in the courtyard of the Bibi Khanum mosque , one can still see the pedestal for the holy Koran Osman, it was made of marble in the early 15th century by order of Ulugbek, as evidenced by an inscription carved on its base.
For Laukh manufacturing hard types of wood are used – walnut and sycamore. In order to kepp the wood's strength for many years it must be properly prepared. Wood pattern turns more beautiful and clear, if logs are pre-soaked in hauz (pond) throughout the year. During this time, dyes penetrate into the cortex of all the fine pores of the wood. And the older the tree, the more noble its shades. Then board thickness of 50-60 mm made ​​from these logs are stacked with the mandatory clearance between them and dried for 8-10 years in a dry, dark and well-ventilated room, turning over each year.
Woocarving Facilities
Opening Hours:
Entrance Fee:
free
Woocarving Address
City :
Country :
Uzbekistan
Web:
www.