Uzbek Jewelry
Here you will find information, view photos and read reviews of The Uzbek Jewelry Art.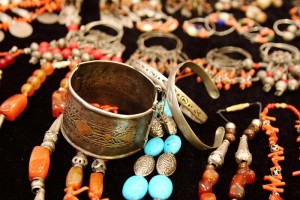 The art of creating jewelry from precious metals and stones the jewelers of Uzbekistan passed on from generation to generation for thousands of years. The earliest jewelry find on the territory of Uzbekistan belongs to the XII century BC. The oldest find was discovered at the source of the Chirchik. In burial ground there were bracelets made ​​of bronze, on which were depicted the cosmological spirals. The Amu Darya buried treasure that was found at the source of the Amu Darya River represents a unique piece of Bactrian jewelers, who lived in the V century BC. A truly sensational find is a treasure trove of ancient settlement Dalverzintepe in Surkhandarya: there was found an enormous amount of jewelry made ​​of gold and silver, inlaid with precious stones, the total weight was 32 ​​kilograms. From the beginning, jewelry was not only an adornment, but also a magic talisman. Silver was a symbol of purity- talisman against poison and evil spirits. Carnelian stone (khakik), gives health and happiness. Turquoise – to bring good luck in battle, and also improves vision. Pearls cures. Jewelers of Uzbekistan has always worked individually, or within the family, where the secrets of thу mastery  passed down from father to son. Typically, in a small
workshop clay furnace for melting metal, a small anvil and a small set of tools are located to create jewelry masterpieces. Since ancient times, silver has been the most popular metal for Uzbek jewelers. It was used not only for women's jewelry, but also for the decoration of weapons, clothing, and household items. In addition, very often in combination with silver gems were  used ruby, garnet, beryl, turquoise, carnelian, lapis lazuli and Marine Minerals – coral, pearl, nacre and cowrie shells. Uzbek jewelry are divided into head, forehead, forehead-temple, forehead-temporal-neck, temporal, occipital, Plait, nose, ear, neck, chest, shoulder, armpit, waist, wrist and foot jewelry. In the XIX century Bukhara, Khiva, Tashkent, Samarkand, Karshi, Kitab Chimbay, Turtkul and Urgench, Gijduvan, Andijan, Namangan, Marghilan, Asaka, Chust, Urgut, Baysun, Denali, Hodzhaabad, Kungrad, Khalkabad, Khodjeyli, Kasansai, Uchkurgan, Nurata were the largest centers of jewelry . Some of the larger settlements, home to a family of hereditary jewelers, were specific names, such as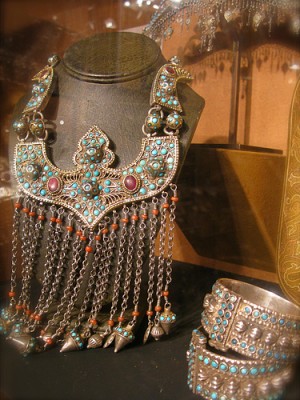 Zargarlik(jewelry), Zargar(Jeweler) , Zargaron etc. Thanks to the creative energy and the art of masters of Tashkent, Samarkand, Bukhara, Urgench and Ferghana the ancient traditions of this wonderful craft are still exist. Today jewelry traditions of Uzbekistan revived thanks to the families of craftsmen who, in spite of everything, continued to work. In jewelry stores again one can see gold and silver, made in the classic style of the Uzbek jewelry school. Today jewelry art of Uzbekistan is represented by artists such as A. Hajdarov, masterfully combining tradition and modernity of Bukhara school, the Dadamuhamedov dynasty working in the best traditions of Bukhara and Tashkent jewelry schools, and others, have preserved their traditional product form, ornament, pattern, selection of stones - centuries emerging artistic image.
Uzbek Jewelry Facilities
Opening Hours:
Entrance Fee:
free
Uzbek Jewelry Address
City :
Country :
Uzbekistan
Web:
www.