Suzani
Here you will find information and view photos of Uzbek Suzani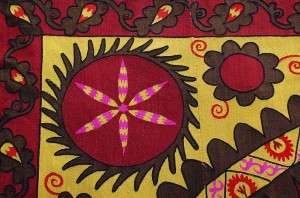 At the end of the XIX-th century the art of embroidery was widespread in Uzbekistan. Almost every woman knew how to sew. The obligatory part of the dowry consisted of embroidered products, and was made for weddings and honeymooners later adorned the room. Products with elements of Uzbek embroidery are designed for different purposes and are divided into small home items embroidery and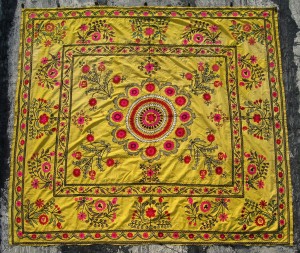 clothing embroidery. Suzani - embroidered decorative panels of white (sometimes colored) cotton or silk, widespread among the peoples of Tajikistan and Uzbekistan as part of interior decoration.
Characteristic patterns are floral motifs, images of birds, ancient magic symbols. These are real works of folk art accompanies a person's life from childhood to old age, shape his taste, instill in him a sense of beauty. Large decorative Suzani created, as a rule, to the most solemn events in the family. Especially a lot of different embroidery are preparing for a wedding in the bride's family, where they constituted a mandatory part of the dowry and were set needed to start for the young family. Uzbek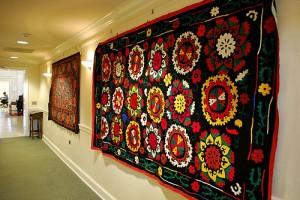 Suzani is a national art form, developing its own style for centuries. In the XIX-th century Nurata, Bukhara, Samarkand, Shakhrisabz, Tashkent and Fergana became centers of artistic embroidery. Each school has its own local embroidery features. Uzbek embroidery mainly depict the floral pattern. Traditional Suzani centers are located
in Nurata, Bukhara, Ferghana, Tashkent and Shakhrisyabz. The interest of younger generation to learning this art form is not accidental, as there is a big demand for original works of hand-embroidered clothing, accessories, bags, pillows, tablecloths, napkins and tyubeteykas among people from different countries
Suzani Facilities
Opening Hours:
Entrance Fee:
free
Suzani Address
City :
Country :
Uzbekistan
Web:
www.