Laquer Painting
About Laquer Painting in Uzbekistan
Here you will find information, view photos and read reviews of the Laquer Painting in Uzbekistan.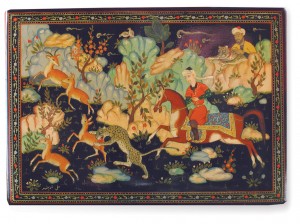 The lacquer miniature painting on papier-mache ("tosh-kogoz") type of visual art that flourished in Samarkand in the Temurids era, in the XIV-XV centuries. This is evidenced by the original ornamental medallions made ​​of papier-mache, miraculously preserved in the interiors of "capital of the world" palaces. In the XVII century the school was established,special prominence for their  "little miracles" have earned the masters of the Middle Ages Kamoliddin Bekhzod and Mahmoud Muzahib. Сovers of manuscripts, tables made ​​of precious wood, pencil cases (kalamdons), chess, jewelry boxes covered with fine paintings. Pattern applied with a brush on primer, which is made from gold or bronze powder, cherry and apricot glue. Lacquer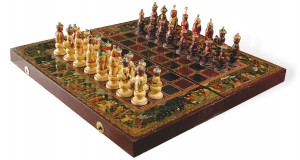 and paint used for papier-mache preparing at highly complicated and extremely diverse recipe. Plots for miniature paintings were taken in the works of the great poets of the East at that time – Navoi, Jami Furqat, Nizami, Khayyam, the works of artists were decorated with hunting scenes and battles, the images of folk customs and festivals. But civil wars have caused oblivion technologies and traditions of an ancient craft. Therefore, most of the works did not come to our days, and the end of the XIX century the secrets of Uzbek Miniature Art have been lost.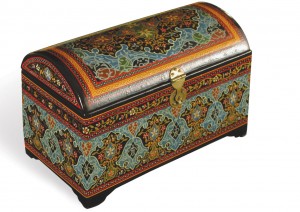 The revival of traditional lacquer painting on papier-mache in Uzbekistan began In the late 70′s. of XX century. In the union of folk masters "pillars" was organized the artistic painting workshop led by well-known painter Ch. Akhmarov. Due to this, there was a school of miniatures in Uzbekistan. At the same time the Republican Art School opened branch of lacquer miniatures and there was established the Fund for the preservation, development and revitalization of endangered species of folk art.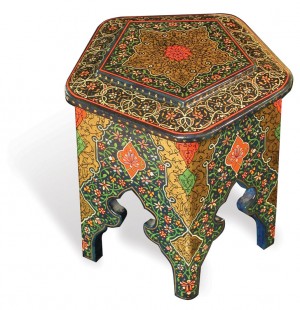 Today lacquer miniature painting is undergoing the Renaissance, the rebirth after more than a century of
neglect. Contemporary artists are finding their own style, carefully maintaining the well-established in the centuries forms and principles. The works of Uzbek artists lend to appear in many international exhibitions. Sleek and thin lacquer miniature painting – a unique display of art and the succession of generations.
Courtesy of muzeyart.uz
Laquer Painting Facilities
Opening Hours:
Entrance Fee:
free
Laquer Painting Address
City :
Country :
Uzbekistan
Web:
www.