Gold Embroidery
Here you will find information and view photos of The Gold Embroidery in Uzbekistan.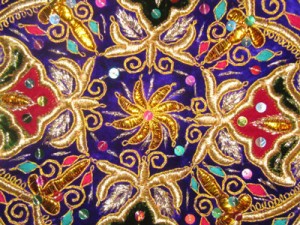 Gold embroidery – crafts that Bukhara is proud of since  immemorial time. Gold embroidery centers were in Samarkand and Herat, but only in Bukhara this craft has gained immense scale and was given the status of official court art. In ancient times, gold embroiderers were exclusively male. According to legend, it was because the gold thread tarnished by a woman's beauty,  and in order not to waste expensive materials, it was decided to attract men.  According to another version, the men were gold embroiderers since the times of such prophets as David, Hazrati Izhris and Yusuf who subsequently became patrons of this craft. The highest peak the craft reached in Bukhara by the middle of the XIX century, where it was specially mastered for garbs decoration of the Emir of Bukhara and his entourage. The largest gold embroidery workshop located right in the residence of the Emir of Bukhara, in the famous Arch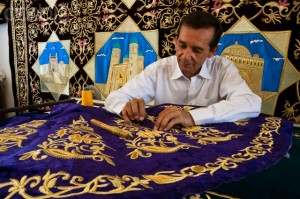 With gold and silver thread were embroidered robes, skullcaps and turbans, shoes and shalwar kameez for men as well as women's clothing: dresses and gowns, bonnets – peshanaband, various scarves, shoes and boots. Also, gold embroidery interspersed with small gems lavishly decorated horse blankets and palace interior. During the Soviet period the master of gold embroidery were merged into the artels and women who have never been engaged in this craft began to learn basics of gold embroidery art. Today, the art of gold embroidery is mastered outside the Bukhara, craftsmen create extended works – theater curtains, huge wall panels, a variety of souvenirs. This technique is widely used in modern clothing as well: women's long and short jackets, gold skull-caps decorated with gold embroidery slippers, belts, handbags, great attention is paid to the decoration of hats, the most common form of which are skullcaps. In addition to clothing, the household items are decorated with gold embroidery : Lula-bolish – pillows, takyacha – pillow cases,   dzhoypush – covers for wedding bed, tahmonpush – curtains for niches, dzhoynamoz – prayer rugs, chimillik – curtains to separate the part of the room.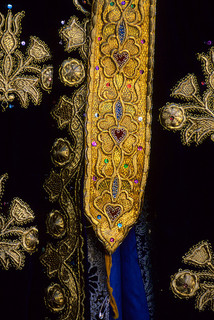 Gold embroidery product was made of different colors velvet or silk. The embroidery was made with metallic threads – kalebatun, is a very thin strip of metal or silver wound on a silk thread. In some cases, metallic thread covered a thin layer of gold. In addition to the stylized threads the twisted colored silk, velvet applique, embossed floral rosette made ​​of gold threads and depicting jewelry, sewn sequins. Gold embroidery products are sewn on special machine – Dukan. Dense fabric of velvet or silk is  stretched on the Dukan pattern is applied and embroidery craftswomen, picking up the characteristic technique of decorate profucts with beads, crystals and slabs of different shapes and colors. An expert can spend on sewing from one week to several years. The gold embroidery ornaments are extremely rich and include floral and geometric motifs, some patterns reproduce and zoomorphic themes as their name implies, "Chashma bulbul" – the eye of the nightingale or the "Zaboni gundzheshak" – tongue of sparrow etc. Some figures have cosmogonical roots: "Qubba" – the dome, "Sitora" – the star, "Nishon" – a circle. Сalligraphic Arabic inscriptions placed on the fringe of the individual works are very popular.
Fine examples of gold-embroifery items of XIX-XX centuries. can be seen today in the exhibitions of the Uzbek State Museum of History , Uzbek State Art Museum, Museum of Applied Arts of Uzbekistan,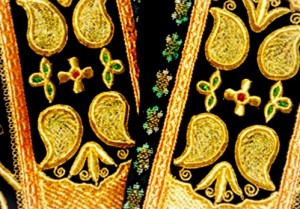 Uzbek State Museum of Timurid (Tashkent), Samarkand Museum of History and Culture. Bukhara State Architectural and Art Museum-Reserve has a rich collection of clothing. At present the work of Bukhara masters adorn the museum exhibitions in Uzbekistan, as well as exhibited abroad. Russia, Germany, France, India, Indonesia, Shi Lanka and China – the happy owners of the great collections of Bukhara gold embroidery that adorn the national museums and private collections.
Gold Embroidery Facilities
Opening Hours:
Entrance Fee:
free
Gold Embroidery Address
City :
Country :
Uzbekistan
Web:
www.