Engraving
About Engraving in Uzbekistan
Here you will find information, view photos and read reviews of The Metal Engraving in Uzbekistan.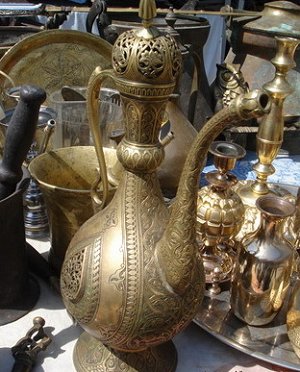 Metal Engraving is one of the oldest forms of applied arts in Uzbekistan. Metal Engraving is creation of carved ornaments for decoration handicrafts mainly of copper and brass. This is one of the most common types of hand-made by the Uzbek ethnic art decoration. In ancient times, local craftsmen produced various articles of gold, silver, copper, bronze and other metals. Masters made various kinds of hammered products:household utensils- trays, bowls of fruit, soft drinks and juices, tea containers, buckets, containers for the carriage of food, water buckets, roasters, cases for cups, vases, jars, containers for water , basins for washing, various household goods – сontainers for storing small things, boxes, devices for smoking, snuff boxes, writing sets – ink and pencil boxes, lamps, ritual objects – a begging bowl and incense burners, hunting drums and  etc.
One of the first artisans have extended this type of craft was Kamol "tinsmith", who lived in the XVI century.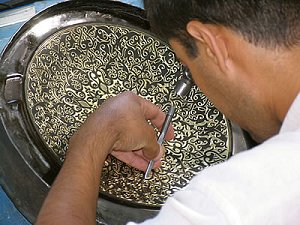 Later, his students opened a school of  tin crafts in Samarkand. Currently, there are three Samarkand craft workshops. The main master of this craft is Nutfilla Saidov, originally from Bukhara. He owns studio with the right to work in the Sher-Dor and Registan Square. In the studio five artisans (craftsmen) and about fifty students work, creating masterpieces of traditional and modern art metal chasing. In the eighteenth century the famous Bukhara masters usto Shadi Muhammad and usto Baratbay taught the craft to visitors from all over the Central Asia. In the center of Bukhara, near the bazaars, there were numbers of raws where engraver-masters exhibited their works. Today, in the old part of Bukhara, in a former madrasah there is a small workshop "Kandakor." It was built in honor of the outstanding chaser of Bukhara – Hamidov Salim, who sought to revive the art of artistic metal engraving in the 60s.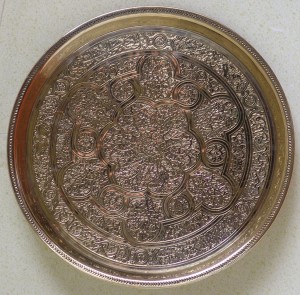 When the weather is good, the masters take out wooden coasters in the yard and decorate iron products for all to see. And everyone can watch them work. In the design of trays and dishes are often used images of famous Bukhara architecture. Some household utensils are already out of use, for example, traditional East-basins "dast-shu", but the masters of metal chasing still produce them. Thanks to the wonderful design, these products became a wonderful souvenir. Bukhara metal chasing traditions developed thanks to Salimdjan Hamidov and such masters as Mukhtor Mukhsinov, usto Hamsho, usto Gul, usto Abdusalom, usto Ahmodzhon, usto Sulaimon, Tahir Kassymov, Rahmon Roziev and many others. Bukhara masters work is always distinguished by subtlety and richness of pattern. The art of metal chasing is characterised by basic patterns which developed over the centuries and generations of artists-minter. These patterns serve as a basis for drawing up the ornamental composition. But they are constantly enriched and improved by successive generations of masters. Each pattern was easy to remember by the picturesque name "gaggle of flying cranes", "chain tulips", "snake road", "eyes of Nightingale", etc. Currently, in Uzbekistan there is a revival of this kind of art. Metal Engraving decorate household items and religious items.
Engraving Facilities
Opening Hours:
Entrance Fee:
free
Engraving Address
City :
Country :
Uzbekistan
Web:
www.