Ceramics
About Ceramics in Uzbekistan
Here you will find information and view photos of Uzbek Ceramics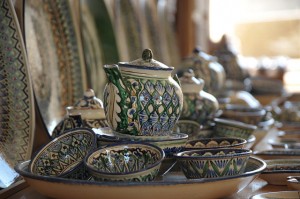 Pottery takes a special place in the artistic production in Uzbekistan. Ceramics is the oldest craft existed in Uzbekistan. Lyagan dishes, bowls and braids, vases, hums and kettles, pots and painted toys, varied in form and very comfortable in use, they are always in demand since ancient times to the present day. And today, they are distinguished by high craftsmanship, harmony, bold imagination, amazing magic ornamental solutions and a subtle sense of style in the handling of color.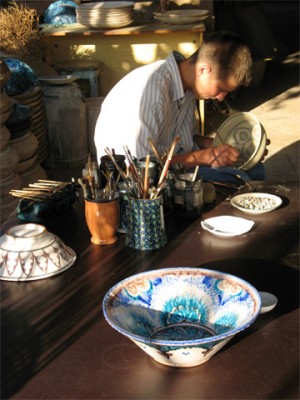 Since ancient times there are two types of ceramics in Uzbekistan: unglazed fired terracotta and glazed ceramics: unglazed fired terracotta and glazed ceramics. Over the centuries the next centers of crafts clearly defined and became famous: Samarkand, Gijduvan, Rishtаn, Karshi,Tashkent, Khorezm.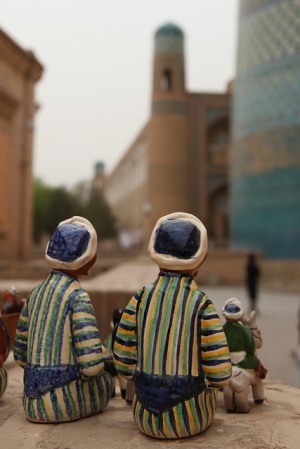 Pottery of these centers is clearly divided into two color groups: the first is dominated by blue, green and white colors, while the second – green, brown and yellow. In the Fergana valley and Khorezm for decoration ancient ishkor glaze azure colors are used, and yellow-brown colors of natural dyes under it just decompose. In Samarkand, Tashkent and Bukhara a lead glaze is used so here is wonderful turns the whole range of red and brown. Each ceramics center also has a unique decorative style. Rishtan ceramics is the most famous in Uzbekistan. Its main feature – a bright blue glaze – "ishkor" – a dye derived from the plant ash. Foremen ceramics predominantly plant (brown-green shades), as well as paintings of various knife, birds and fish
Ceramics Facilities
Opening Hours:
Entrance Fee:
free
Ceramics Address
City :
Country :
Uzbekistan
Web:
www.