Yunusabad Farmers' Market
About Yunusabad Farmers' Market
Welcome to Yunusabad Farmers' Market in Tashkent. Here you will find information, view photos and read tourist reviews of Yunusabad Farmers' Market in Tashkent. If you really want a fancy shopping experience in Tashkent, browse our list of markets in Tashkent. Take a time to look at our list of shopping destinations in Tashkent.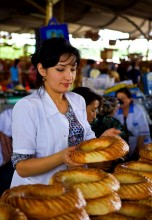 Yunusabad Bazaar (Yunusobod dehqon bozori) is located in one of the most densely populated districts of Tashkent – Yunusobod and close to Tashkent TV Tower and MegaPlanet Shopping Mall. Like all local bazaars of Tashkent, Yunusabad offers buyers fresh fruits and vegetables all year round, as well as many species of fish, cereals, and of course, the pearl of each market – stalls full of nuts, dried fruit and oriental spices.
Any time of year has its own seasonal products. In the spring bazaar is packed with strawberries, cherries ripening, new potatoes and greens. In the summer stalls are crammed with all kinds of fruit. Autumn – time to fish and vegetables, and fresh and dried grapes (raisins).
Bazaar has a whole department of meat products, where you'll find lamb , beef steaks and chops for barbecue, as well as chicken, and much more. At the entrance, lavored cakes of different kinds and various types of traditional samsa are sold.
Yunusabad Farmers' Market Location
Yunusabad Farmers' Market Facilities
Yunusabad Farmers' Market Address
Street Address:
Yunusabad - 3
City :
Tashkent
Country :
Uzbekistan
Telephone :
+99871 2218166; 2216705