Ye Olde Chelsea Arms Pub
About Ye Olde Chelsea Arms Pub
Welcome to Ye Olde Chelsea Arms Pub in Tashkent. Here you will find information, view photos and read tourist reviews of Ye Olde Chelsea Arms Pub in Tashkent.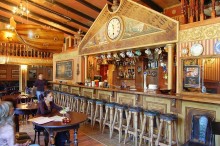 A piece of England in Tashkent. Ye Olde Chelsea Arms Pub in Tashkent offer the truly English interior and range of beer, fried fish and chips, beer snacks. Huge portions of salads and hot dishes. Happy-hours of discount that is poured at the bar. Periodically organizes large-scale high-profile broadcast sporting events.
Pub in Tashkent, designed in the best tradition and classical-style furnishings England. Retro atmosphere and British Romanticism, and the kingdom of sandwiches, juicy steaks and lamb on a spit. Plus - drink special to British pubs, and, of course, football. It's all about the foggy Albion (the way Russians call the britain) - from the smallest architectural details and interior to the original names of dishes on the menu.
Ye Olde Chelsea Arms Pub Location
Ye Olde Chelsea Arms Pub Facilities
Ye Olde Chelsea Arms Pub Address
Street Address:
25, A. Kahhar Street
City :
Tashkent
Country :
Uzbekistan
Telephone :
+998 71 215 7227
Web:
www.caravangroup.uz
Email:
info(at)caravangroup.uz