Tashkent Planetarium
About Tashkent Planetarium
Welcome to Tashkent Planetarium in Tashkent. Here you will find information, view photos and read tourist reviews of Tashkent Planetarium in Tashkent.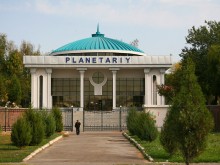 Perhaps each of us in childhood dreamt to conquer space, fly to the sky, see the Earth from above or take a few steps on the Moon. Tashkent Planetarium, Located near the Chorsu Bazaar is a place where you can realize your dreams.
The Tashkent planetarium has a show and exhibition halls. In the showcase room, which seats 50-60 people, is the main equipment that is designed to demonstrate the starry sky and the planets of the solar system. With the help of the projection equipment and slides you may travel into the depths of the universe, see the meteors, black holes, northern lights, comets of various sizes, and admire the starry sky and the twelve signs of the zodiac.
The main objective of the planetarium is a recreation of people and a promotion of the astronomy. People of different ages and professions regularly visit the planetarium. The venue organizes special excursions for children.
Tashkent Planetarium Location
Tashkent Planetarium Facilities
Tashkent Planetarium Address
Street Address:
6, Zarqaynar Street
City :
Tashkent
Country :
Uzbekistan
Telephone :
+ 998 71 244-77-20