Ankhor Canal
Welcome to Ankhor Canal in Tashkent. Here you will find information, view photos and read tourist reviews of Ankhor Canal in Tashkent.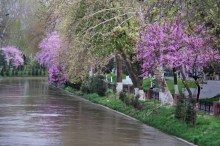 Since the ancient times Tashkent amazes the visitors with its exceptional climate and beautiful nature. Full-flowing rivers, canals, and  flowering gardens give a special charm to this beauty.
One of such amazing places in Tashkent is a shoreline of Ankhor River. This picturesque riverside is beautiful in all seasons. The abundance of water and trees creates a cool summer and wonderful winter atmosphere.
Ankhor Canal is also a famous place among the people who love to swim in all year round.
Walking along the riverside, besides the tranquil and relaxing promenade, you will have a chance to visit many sightseeing sites of Tashkent, including Independence Square, Turkiston Palace, Monument of Earthquake, Museum of Olympic Glory and many more.
Ankhor Canal Location
Ankhor Canal Facilities
Ankhor Canal Address