Slavyanka Russian Cafe
About Slavyanka Russian Cafe
Welcome to Slavyanka Russian Cafe in Tashkent. Here you will find information, view photos and read tourist reviews of Slavyanka Russian Cafe in Tashkent.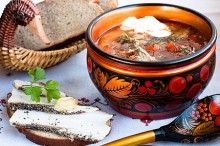 Slavyanka Russian Cafe  the place for the gourmets of Russian and Ukranian national cuisine. The interior is decorated in Slavonic traditions. Here you can see bast shoes, sets of nesting dolls. In Slavyanka Russian Cafe you can taste home-made kvass, the recipe of which is kept secret.
The assortment of menu of this Russian restaurant is rich in variety of dishes. Here you can taste cutlets, duck with prunes and many other dishes of Slavonic cuisine. "Slavyanka" also can be a good place for your holiday in friendly company. There is also VIP hall for 8 persons where you can talk on business matters.
Slavyanka Russian Cafe Location
Slavyanka Russian Cafe Facilities
Slavyanka Russian Cafe Address
Street Address:
22, Uzmon Nosir street
City :
Tashkent
Country :
Uzbekistan
Telephone :
(99871) 281 5556