Souvenirs
Tashkent's best places to buy gifts, crafts and souvenirs
There are plenty of places in Tashkent to shop for souvenirs and gifts. You will find souvenir shops inside almost all hotels, museums and trading centres.
If you want to find something unique or love to haggle to a good deal goods, Abulkasim Madrassah and Chorsu Bazaar are best places to visit. If you don't have enough time to visit Bazaars or galleries in Tashkent, you may find a good selection of souvenirs at the hotels you stay. Rates are quite higher than bazaars but you may bargain. Here are our list of top places in Tashkent to buy unique souvenirs, including jewellry, handicrafts, ceramics, silk and icats and woodcarving.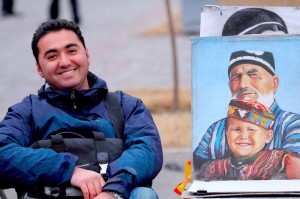 Broadway
Saligokh Street, known locally as 'Broadway', has some street artists and painters, who display their original artworks. There are many shopping centers, fashion shops, boutiques, restaurants, and cafes are located on and around the Broadway in Tashkent. Here you may also pick up some handmade crafts and bric-a-bracs.