Shopping Centers
Taskent's best department stores and shopping malls
Tashkent has many shopping centres. From MegaPlanet to Kontinet, Tashkent to Poytaxt, they are located across the city, stocking everything from footwear to furnishing and clothes to caviar.
Most Tashkent shopping centers also have cafés, restaurants, bars, kids playground, cinemas or entertainment areas – perfect when you need to recharge your batteries after an extended shopping session. Some even offer you the chance to relax with a elegant spa or beauty treatment. You'll also find spacious cosmetics departments in most of larger stores.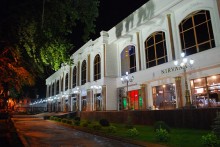 Zarafshan Shopping Center
Zarafshan Shopping Centre at Tashkent Broadway boasts an impressive range of affordable buys. There's also cafés, restaurants and amusement sections, as well as conciert hall inside and around the Zarafshan shopping center– enough to keep even the most intrepid shopper occupied.