Bazaars & Markets
Your guide to the best markets and bazaars in Tashkent
Tashkent boast with its markets and bazaars. You can buy almost anything at markets in Tashkent. From cheap eats and fresh fruits to art and souvenirs, to casual and luxury fashions. There's around 20 major markets in Tashkent to choose from, so there's hours of top shopping ahead of you! Check your bargaining skills and enjoy the sights, sounds of merchants, and smells of products Tashkent's markets.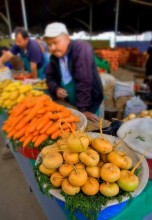 Askia Farmer's Market
If you are looking for a general flea market, Askia Market in Tashkent is ideal as it has a vast hotch-potch of stalls. The market is located close to the Babur Recreation Park in Tashkent. Traders here sell everything imaginable: food, furniture, kitchen appliances, DVDs and general bric-a-brac.