Sheikhantaur Mausoleum
About Sheikhantaur Mausoleum
Welcome to Sheikhantaur Mausoleum in Tashkent. Here you will find information, view photos and read tourist reviews of Sheikhantaur Mausoleum in Tashkent. You may also visit our full list of Historic sites in Tashkent, or click the link to look at our full list of sightseeing places in Tashkent.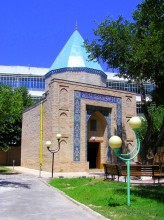 Memorial at Sheikh Hovandi Takhur is considered as one of the ancient buildings, preserved in Tashkent. It was built by order of Amir Temur over the grave of the Sheikh at the end of the 15th century. The personality of Havendi Takhur attracted his contemporaries, and descendants, who considered him as the Sheikh – the wisest of the wise. He was born at the end of the 13th century in the family who came from Arabia, Sheikh Omar, who was considered a descendant of the Caliph Omar. It is known that Sheikh Khoja Ahrar who had a great influence on the whole history of the 15th century was a descendant of Havendi Takhur.
Mausoleum of Sheikh Havendi Takhur is humble and modest as was his life. Only small inserts of the blue majolica in the lancet compartments and a small tympanum above the entrance enliven the brickwork.
Tombs of the rulers of Tashkent and their entourage were built around the memorial. At the end of the 19th century there was a necropolis, consisting of sixteen mausoleums. However, as a result of several devastating earthquakes and ill re-planning of the area in Soviet times, now a memorial complex consists of only three buildings.
Two dozen meters separate the tomb Sheikh Havendi Takhur from a small cube-shaped building of brick, topped with tent canopy, an unusual architecture of Central Asia. Antique carved doors leading to the burial room – gurkhan, decorated with deep niches with 'ganch' stalactites. It is the mausoleum of the ruler of Tashkent in the mid-16th century Tolly-biy, nicknamed Kaldyrgach-biy – "swallow".
At little distance, there is the grand mausoleum of Yunus-khan of Mongolia. This construction of 15th century with the portal and high lancet arch is impressive with its size. Domed ceiling of the main hall of the tomb is based on a system of intersecting arches and sails. The facades are decorated with Arabic script calligraphy and ornamentation. The magnificent mausoleum is worthy amazing as the person buried in it, Yunus Khan.
Yunus Khan belonged to the Chagatai Province (Central Asia) ruled by nomads of Mongolia after Chengiz Khan. In addition, he was in a close relationship with Temurids, because one of his relatives was the wife of Ulugbek and daughter of Yunus Khan Nigar Mihr was the mother of Babur, the first Emperor of the Mughal India.
Three mausoleums of the Sheikhantaur complex forever remain the pearls in a necklace of medieval architectural monuments of Uzbekistan.
Sheikhantaur Mausoleum Location
Sheikhantaur Mausoleum Facilities
Sheikhantaur Mausoleum Address
Street Address:
Navoi Street
City :
Tashkent
Country :
Uzbekistan