Shedevr Garden Restaurant
About Shedevr Garden Restaurant
Welcome to Shedevr Garden Restaurant in Tashkent. Here you will find information, view photos and read tourist reviews of Shedevr Garden Restaurant in Tashkent.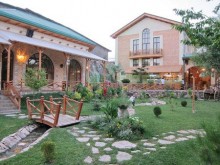 Cozy and hospitable restaurant Shedevr Garden is located in the old part of Tashkent, close to Kukcha Mosque, which minaret towers above all neighboring quarters. In the inner yard of big house there is a garden with a number of marquees, tables and ayvans.
Restaurant Shedevr Garden is the perfect place where you can relax under shade of cherry trees during hot summer evenings, enjoying the freshness of artificial waterfall, and watch storks and peacocks, walking around the garden. This Tashkent restaurant offers to taste dishes of Uzbek national cuisine and wide range of European dishes. Light background music and relaxing natural landscape will ease mind from world concerns and make you feel in the Garden of Eden. Comfort and coziness of the restaurant Shedevr Garden will leave the warmest memories and a desire to come here again.
Shedevr Garden Restaurant Location
Shedevr Garden Restaurant Facilities
Shedevr Garden Restaurant Address