Premier League Sports Bar
About Premier League Sports Bar
Welcome to Premier League Sports Bar in Tashkent. Here you will find information, view photos and read tourist reviews of Premier League Sports Bar in Tashkent.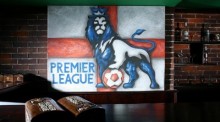 Sports bar "Premier League" in Tashkent – a place for those who prefer a dialogue in an informal and friendly atmosphere. Here you can relax with friends and watch a sports match. The interior of the bar is deeply personal and utterly amazing. Designer wooden barrels in the walls,  amazing cellars and extraordinary paintings, combined with classic furniture and excellent service will will take your attention.
You can watch live broadcasts of top national football championships,the Champions League and UEFA Cup, as well as other equally exciting sporting events in the world of boxing, tennis, basketball, hockey, football and "F1″. Here, sitting on comfortable leather couches at tables and drinking a cold beer with a freshbrand snacks, you will plunge into the wonderful atmosphere of sporting battles and magical world of cinema.
Premier League Sports Bar Location
Premier League Sports Bar Facilities
Premier League Sports Bar Address
Street Address:
5, Shahrisyabz street
City :
Tashkent
Country :
Uzbekistan
Telephone :
+998 90 178 0050
Web:
www.brauhaus.uz
Email:
info(at)brauhaus.uz, russkiy-proekt(at)mail.ru