Modern Sights
Modern sightseeing places in Tashkent

Tashkent is the reviving city. There are an abundance of places to visit and things to do in Tashkent.  Aside from historic sights in Tashkent, there are plenty of modern tourist attractons in Tashkent. Mainly located in the centre of Tashkent, the modern sights of the city are unique and cohesive examples modern Uzbek architecture.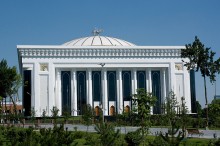 Palace of International Forums
Uzbekistan International Forums Palace, located on Amir Timur Square. The palace was ceremonially opened in September 2009 to celebrate the occasion of Tashkent's 2200th anniversary. It is to be a place of national and international contact as well as the country´s official representative building.