Pizzeria Bella Napoli
About Pizzeria Bella Napoli
Welcome to Pizzeria Bella Napoli in Tashkent. Here you will find information, view photos and read tourist reviews of Pizzeria Bella Napoli in Tashkent.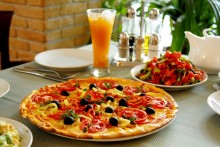 Pizzeria Bella Napoli has been serving delicious, authentic thin crust pizzas in Tashkent, since 2007. You may taste the authentic flavours of Naples in our cosy Italian restaurant. At the heart of the Bella Napoli success is passion; our guests' passion for authentic Italian pizza, and our staffs' passion for serving the highest-quality food with a friendly service in a casual, yet stylish, dining environment.
Our menu is as diverse as our customers' tastes. Pizza is one of the world's best-loved foods and we take a great deal of pride in serving it using the freshest and highest quality ingredients, many of them imported directly from Italy. You may take closer look to our menu.
Pizzeria Bella Napoli Location
Pizzeria Bella Napoli Facilities
Pizzeria Bella Napoli Address
Street Address:
63 Sh. Rustaveli Street
City :
Tashkent
Country :
Uzbekistan
Telephone :
+ 998 71 2539183 + 998 71 2539184
Web:
www.abnmb.uz
Email:
bella_napoli@abnmb.uz