Parfum Gallery
Welcome to Parfum Gallery in Tashkent. Here you will find information, view photos and read tourist reviews of Parfum Gallery in Tashkent. If you really want a fancy shopping experience in Tashkent, browse our list of boutiques and brand shops in Tashkent. Take a time to look at our list of shopping destinations in Tashkent.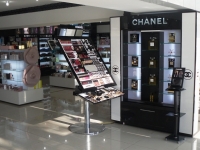 Established in 1990, The Parfum Gallery is a retailer of perfumes through over 20 stores nationwide, and online at parfumgallery.uz.
Parfum Gallery offers genuine top designer's brand fragrances such as D&G, Calvin Klein, Gucci & many more. Here we have an amazing range of fine perfumes, colognes & aftershaves ranging from good old days to modern days. With big reductions on all our top brands, you may not able to find this price on any other perfume shop. All of our fragrances are sourced directly from the fragrance houses themselves – no grey market products, no copies and no testers. Only the best and latest designer fragrances from the biggest brands.
Parfum Gallery Location
Parfum Gallery Facilities
Parfum Gallery Address
Street Address:
7, Shahrisabs Street Supermarket Korzinka (Airport) Kontinent Shopping Mall Shopping Mall "Mega Planet" Shopping Mall "Mercato"
City :
Tashkent
Country :
Uzbekistan
Telephone :
(+99871)233-84-84
Web:
www.parfumgallery.uz
Email:
begim@evo.uz