Swimming and Boating
Swimming, Boating and Lakes in Tashkent
This summer, get out and enjoy one of the beautiful ponds, lakes and outdoor swimming pools in Tashkent.
From swimming in the Aquapark in Tashkent, to boating on the National Park, there are many ways to have fun on or in the water! List of top outdoor swimming places in Tashkent. Take the plunge in one of Tashkent's outdoor pools and lakes or hire a boat and relax on the lake in Tashkent.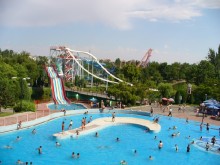 Aqua Park
Located in the north of Tashkent, close to the Tashkent TV Towers, Aqua Park is the largest swimming area in Tashkent. Aqua Park is a water park for the whole family to enjoy, where young and old, will spend an unforgettable day's visit to our park. Aqua Park Includes a restaurant and coffe shop.