Alisher Navoi Opera and Ballet Theatre
About Alisher Navoi Opera and Ballet Theatre
Welcome to Alisher Navoi Opera and Ballet Theatre in Tashkent. Here you will find information, view photos and read tourist reviews of Alisher Navoi Opera and Ballet Theatre in Tashkent.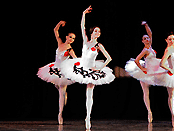 The Opera and Ballet Grand Academic Theatre in Tashkent named after Alisher Navoi is one of the leading centers of performing arts in Central Asia, where many famous conductors and musicians, artistes and singers have performed. In fact this is one of the only 3 theatres (out of more than 700) that were given the status of Grand in the erstwhile Soviet Union. The other 2 theatres were in Moscow and Minsk.
The artists of Navoi Theatre in Tashkent have graced the stages of La Scala, Milan, The Paris Opera, Covent Garden, the Metropolitan and the Bolshoi and Mariynsky theatres. Its wide repertoire ranges from classical favourites such as Swan Lake and Don-Quixote, to original creations, such as Dilorom or Tanovar, inspired by ancient Uzbek folk tales. Their performances can be compared to the best in the world.
The theatre's building is an architectural monument of the mid 20-th century, its courtyard depicts the wonderful world of the national folk art. The author of designing the building was Academician Alexei Shusev, he also built a mausoleum in Red Square in Moscow. Construction of the theatre began in 1939. In 1942, it had been suspended in connection with the difficulties of wartime, but in 1944 the construction continued. In November 1945 the Japanese prisoners of war from Kvantun Army were transferred to Tashkent. They finished the construction of the building.
Alisher Navoi Opera and Ballet Theatre Location
Alisher Navoi Opera and Ballet Theatre Facilities
Alisher Navoi Opera and Ballet Theatre Address
Street Address:
28, Ataturk street
City :
Tashkent
Country :
Uzbekistan
Telephone :
+ 998 71 233-90-81
Web:
www.gabt.uz
Email:
gabtuzb@mail.ru