Museum of Temurids' History
About Museum of Temurids' History
Welcome to Museum of Temurids' History in Tashkent. Here you will find information, view photos and read tourist reviews of Museum of Temurids' History in Tashkent.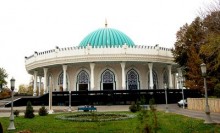 The museum, which was opened in 1996 and become one of the top sightseeing places in Tashkent, holds the collection of the archaeological, ethnographic and numismatic materials, ornaments, military ammunition, items that belong to the period of Amir Temur's Empire.
Timurid rulers were sympathetic to Persian culture and lured artists, architects, and men of letters who would contribute to their high court culture.
You will see valuable historical documents, such as correspondence of Amir Temur and his descendants with European monarchs, skillful miniature paintings of Amir Timur by European masters of the time.
There are also numerous jewelry, military items, clothing, musical instruments, manuscripts of Amir Timur and Babur, astronomical instruments of Ulugbek and many other cultural treasures, dating back to the glorious era of Tamerlane.
Museum of Temurids' History Location
Museum of Temurids' History Facilities
Museum of Temurids' History Address
Street Address:
1, Amir Temur Street
City :
Tashkent
Country :
Uzbekistan
Telephone :
+ 998 71 2320213
Web:
www.temurid.uz
Email:
temurid@uzsci.net