Museum of Railway
Welcome to Museum of Railway in Tashkent. Here you will find information, view photos and read tourist reviews of Museum of Railway in Tashkent.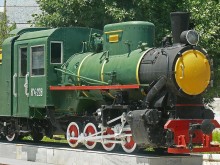 Today, modern trains run between major cities of Uzbekistan. Travelers may enjoy trips to Samarkand on High speed train Afrosiab that run 250 km/h while there is another express train between Samarkand and Bukhara.
But how did all start? You may learn the history of the railway and engineering at one of the must-see places in Tashkent – the Museum of Railway History, which is located in the center of Tashkent, just opposite to the Railway Station. This unique museum of railway equipment was opened on the 4th August 1989 and it is one of the largest museums of its kind in the world. Among the many interesting exhibits are thirteen steam locomotives of historical period, approximately twenty diesel and electric locomotives, engines and mechanisms of the repair and engineering technician, all reasons why the Tashkent museum was included in the World Association of Technical Museums associated with the railway.
Museum of Railway Location
Museum of Railway Facilities
Museum of Railway Address
Street Address:
6, Turkestan Street
City :
Tashkent
Country :
Uzbekistan
Telephone :
(+998 71) 299-70-40, 259-67-08