Museum of History
Welcome to Museum of History in Tashkent. Here you will find information, view photos and read tourist reviews of Museum of History in Tashkent.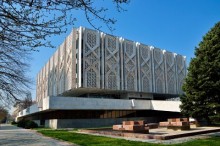 The State Museum of History of Uzbekistan Academy of Sciences of the Republic of Uzbekistan dates back to the opening of the first public museum in Central Asia in 1876. The Museum of History, located just opposite of the Independence square in Tashkent,  has the largest repository of historical and cultural values of the Central Asia.
For more than 130 years of its existence, as a result of organized large-scale scientific and archeological works, the Museum of History in Tashkent had accumulated more than 250,000 items, including about 60,000 archaeological, numismatic of over 80,000 and 16,000 ethnographic objects. In the archives of the museum holds more than 35 thousand black-and-white negatives, photographs and documents mainly the beginning of XX century.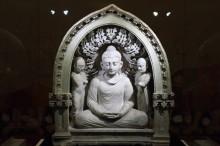 The museum contains unique exhibits. Among them are the unique monuments of the peoples of Uzbekistan, such as:
- Skeletal remains of the ancient human of the Selangor grotto (1.5 million years BC), Teshiktash and Obirakhmat;
- Stone statue depicting two snakes. (Fergana Valley. II millennium BC);
Museum of History Location
Museum of History Facilities
Museum of History Address