Museum of Astronomy
About Museum of Astronomy
Welcome to Museum of Astronomy in Tashkent. Here you will find information, view photos and read tourist reviews of Museum of Astronomy in Tashkent.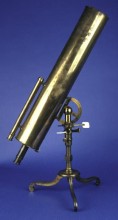 The museum was opened within the International Year of Astronomy, announced by the UN in 2009, and famous Uzbek scientist Mirzo Ulugbek's 615-th anniversary. His astronomical school is considered one of the most prominent in the world. The project of opening Central Asian first Museum of Astronomy was supported by UNESCO. The Museum of Astronomy in Tashkent hosts the exhibition that displays the history of astronomy in Uzbekistan and the world from ancient times to the present day.
Visitors to the museum show great interest in a model of the main instrument of Ulugbek's observatory – meridian quadrant, demonstrating the process of astronomical observations carried out in Ulugbek's observatory. The museum exhibits the model of his famous tables Ziji Jadidi Kuragoni. The coordinates of 1,018 stars were determined with astonishing accuracy for that time. The exposition of the Museum of Astronomy in Tashkent includes dozens of unique tools of astronomy used in medieval and late times.  These items include Short's telescope and Hadley's marine octant created on the basis of Isaac Newton's drawings, a German telescope of 18th century, a French telescope of late 19th century, celestial globe of Muhammad Sharif Bukhari of 19th century.
The exhibition includes medals of the Pacific Astronomical Society and the Academy of Sciences awarded to Tashkent's scientist Stephen Kozik for the discovery of two comets in 1936 and 1939.
Museum of Astronomy Location
Museum of Astronomy Facilities
Museum of Astronomy Address
Street Address:
33 Astronomicheskaya street
City :
Tashkent
Country :
Uzbekistan
Telephone :
+998 71 2358102
Web:
www.astrin.uz
Email:
info@astrin.uz