Mirabad Farmer's Market
About Mirabad Farmer's Market
Welcome to Mirabad Farmer's Market in Tashkent. Here you will find information, view photos and read tourist reviews of Mirabad Farmer's Market in Tashkent. If you really want a fancy shopping experience in Tashkent, browse our list of markets in Tashkent. Take a time to look at our list of shopping destinations in Tashkent.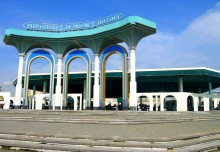 At the Mirabad Bazaar you will find a huge variety of products, from clothing to all sorts of fruits and vegetables for which Uzbekistan is so famous. The fruits are very sweet and have a natural taste, unlike those found in your local grocery store.
Also known as GOSPITALKA it is one of the central bazaars in Tashkent. It is located close to Holy-Dormition Cathedral and near to Grand Mir Hotel. The story of the bazaar goes back to the middle of the XIX century. On the site there was a military hospital of the Russian troops and there was set up a little market , where the Russians purchased oriental dishes and sweets.
A calling card, a distinctive feature of the bazaar is a light green canopy that covers the whole of the market, protecting against heat in summer and giving shade to traders and visitors to the market, and in winter from snow and rain. And this green 'umbrella', gives a special comfort of the market in which there is always a kindness and a brisk trade.
Along with farmers' section, there are lots of shops in and around Mirabad bazaar in Tashkent.
Mirabad Farmer's Market Location
Mirabad Farmer's Market Facilities
Mirabad Farmer's Market Address
Street Address:
Nukus Street
City :
Tashkent
Country :
Uzbekistan