Kukeldash madrassah
About Kukeldash madrassah
Welcome to Kukeldash madrassah in Tashkent. Here you will find information, view photos and read tourist reviews of Kukeldash madrassah in Tashkent. You may also visit our full list of Historic sites in Tashkent, or click the link to look at our full list of sightseeing places in Tashkent.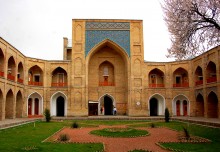 Every city in Uzbekistan, whether it is Samarkand or Samarkand has a central ensemble – Registan. In Tashkent, the Registan ensemble consisted of a large madrasa Kukeldash with remarkable mosaics in the portal. The monument is raised on a high pedestal, emerged on the ancient cultural layers.
Despite the numerous modern complexes built in the 20th century in the Chorsu square, Kukeldash madrassah still remain the historic dominance of the area.
History of Kukeldash Madrassah
Built in 1570 by Governor Dervish Khan, known as Kukeldash, which means "milk brother" of khan, it is as originally a Muslim school. In the 18th century the madrassah was arranged as a caravanserai for merchants. In the 19th century, madrassah served as a fortress of Kokand khans. Until 1865 madrassah Kukeldash served as a place of public execution.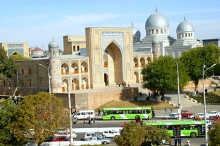 Madrassah have repeatedly fallen into ruins. Tumbled by an earthquake in 1866 and 1886, the portal was then restored. madrassah was renovated in 1950-1960 -1977 years. To the north-east of the Kukeldash madrassah, there is preserved a monument of an earlier time, construction of which is connected with the name of Khoja Ahrar. It's Friday mosque.
All these buildings are organically woven into the exotic flavor of bazaar, with its bright colors, noise and bustle. Market has long attracted the attention of Russian and Western European travelers and tourists.
Kukeldash madrassah Location
Kukeldash madrassah Facilities
Kukeldash madrassah Address