Japanese Garden
Welcome to Japanese Garden in Tashkent. Here you will find information, view photos and read tourist reviews of Japanese Garden in Tashkent.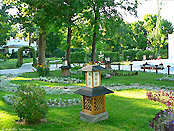 Tashkent's top landmarks are a useful backdrop for wedding parties, who congregate for photos in front of statues to war heroes or earthquake victims. Also there is a small park in the center of the city with a nature of distant island countries, which is one of the favorite places of newlyweds to have their ceremonial photos taken, it is the Japanese Garden in Tashkent.
A small pond, overgrown with real Japanese lotuses, miniature stone gardens carved out of granite lanterns, humped wooden bridges, ducks swimming in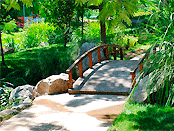 the lake, storks and even peacocks wandering freely across the lawn attract many bride and grooms to capture commemorative photos of the best moments of their life. There is also a teahouse in the pond. Here you can experience a real Japanese tea ceremony.
The Japanese garden in Tashkent, like all Japanese gardens, contains a philosophical-ethical concept of the universe in miniature, and has an ennobling effect upon world of the human soul via the beauty of nature. Here, natural beauty is skilfully emphasized by the artistic-expressive means of Japanese landscape art. The Japanese garden became a venue of various cultural events as well.
Japanese Garden Location
Japanese Garden Facilities
Japanese Garden Address