Ilkhom Theatre
Welcome to Ilkhom Theatre in Tashkent. Here you will find information, view photos and read tourist reviews of Ilkhom Theatre in Tashkent.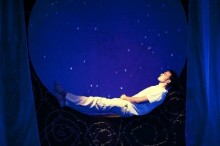 The Ilkhom theatre was the first independent theatre in the Soviet Union. It was founded in 1976 by director Mark Weil and a group of Tashkent Theatre Institute graduates.
Every month in the Ilkhom theater, which stages productions in Russian but occasionally has English subtitles, there are different exhibitions, charitable plays, concerts & video-programs of the theatre.
For the last fifteen years the Ilkhom Theatre took part in more than 34 international theatre festivals in more than 22 countries of the world: the United States, Norway, Denmark, Ireland, the Netherlands, Czechoslovakia, Germany, France, Russia and Kyrgyzstan etc.
Ilkhom Theatre Location
Ilkhom Theatre Facilities
Ilkhom Theatre Address
Street Address:
5, Pakhtakor street
City :
Tashkent
Country :
Uzbekistan
Telephone :
+ 998 71-241-22-41
Web:
www.ilkhom.com
Email:
info@ilkhom.com