Hugo Boss
Welcome to Hugo Boss in Tashkent. Here you will find information, view photos and read tourist reviews of Hugo Boss in Tashkent. If you really want a fancy shopping experience in Tashkent, browse our list of boutiques and brand shops in Tashkent. Take a time to look at our list of shopping destinations in Tashkent.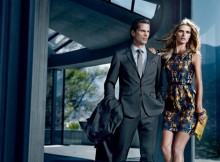 This beautifully appointed shop is now an flagship store for the company. The shop provides a complete outlet for the Hugo Boss menswear range, including suits, casual wear, bodywear and a full range of accessories.
Established since 1923, the name of Hugo Boss has long been synonymous with dignified style and good taste within the world of fashion. The brand see the name as representing innovation, creativity and progress.
All brand collections are seen as adhering to a philosophy and distinct signature style. These collections include Boss, the core brand, said to stand for clear cut, contemporary design and high quality detail and Hugo, seen to be unconventional, yet with the same high quality often referred to as the collection for men and women with their own individual styles.
Hugo Boss Location
Hugo Boss Facilities
Hugo Boss Address
Street Address:
26A, Bukhoro street
City :
Tashkent
Country :
Uzbekistan
Telephone :
+99781 232-44-55