Holy Assumption Cathedral Church (Uspensky Cathedral)
About Holy Assumption Cathedral Church (Uspensky Cathedral)
Welcome to Holy Assumption Cathedral Church (Uspensky Cathedral) in Tashkent. Here you will find information, view photos and read tourist reviews of Holy Assumption Cathedral Church in Tashkent.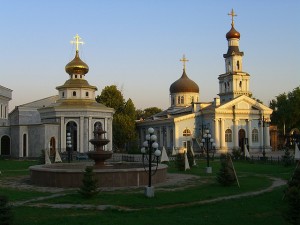 Holy Assumption Cathedral Church is located on Avlieota street, near the central railway station. Temple is the cathedral of the Tashkent Diocese since 1945. The Assumption Cathedral has a long history. The first Orthodox church in Central Asia in Tashkent was built in 1871 by the church, but is separate from it, there was a beautiful stone bell tower with three stories. Temple was repeatedly closed, renamed, restored. Until the end of 1945 in a former hospital church was sanitary storage № 340 of Central Asian Military District. After World War II, in December 1945, the church was returned to believers. Hospital church became known as the Holy Assumption Cathedral. In 1958-60. the church was rebuilt almost from scratch. In the early 90s bell tower and dome were rebuilt, greatly expanded and ennobled by enclosing the cathedral area, the interior of the cathedral became richer and more solemn. Cathedral Altar were given the Gospel and the Eucharistic vessels. April 11, 2009 in the life of Central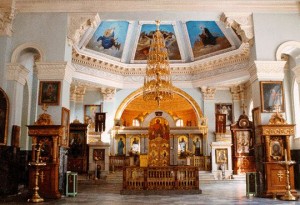 Asian diocese was another truly historic event in Tashkent were heard "voices" of thirteen new cathedral bells. In spring 2010, the cathedral was reconstructed, a new tower built. Today, the Holy Assumption Cathedral can be seen landscaped with paving, a fountain, benches, trees, flowers, lights, golden dome glitter under the blue sky. Building complex consists of the Assumption Cathedral, the basin with holy water, christening, a seminary, and fence with stone gates. In the building, where service takes place, hang ancient icons in gilded frames, you can see the ark with the particles of the tree of the Holy Cross, honorable relics of the Kiev Caves reverend fathers and other shrines
Holy Assumption Cathedral Church Location
Holy Assumption Cathedral Church (Uspensky Cathedral) Facilities
Opening Hours:
Entrance Fee:
free
Holy Assumption Cathedral Church (Uspensky Cathedral) Address
City :
Country :
Uzbekistan
Web:
www.