Gafur Gulyam Park
Welcome to Gafur Gulyam Park in Tashkent. Here you will find information, view photos and read tourist reviews of Gafur Gulyam Park in Tashkent.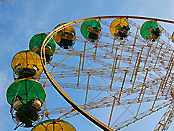 Being one of the greenest parks in Tashkent, Gafur Gulyam Park covers 23 acres. The whole area of the park is covered with large old plane trees that make the park a true oasis in the midst of asphalt roads and concrete building of the city.
The large lake in the center of the park with a small green island bestows visitors a mild micro-climate and creates an idyllic living piece of wildlife.
The Gafur Gulyam Park in Tashkent gets more amazing during the public holidays and celebrations such as the New Year, Navruz, and other memorable dates. All year round they are held other creative activities, folk festival, exhibitions of local customs and rituals, clothing, folk artisans.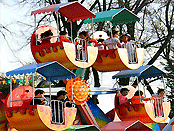 Attractions in the Gafur Gulyam Park
Variety of attractions to suit all tastes makes the park a favourite spot for residents of all ages. Hallmark of the park is "Ferris Wheel" – a kind of "clock" of the park. The movement of Ferris wheel means – the park is open. There are lots of visitors relaxing, boating in the lake, riding, playing chess or backgammon or just sitting on the bench reading a book in the shade of trees.
Mini Zoo in the Gafur Gulyam Park amazes children
One of the amazing features of the park is a unique mini-zoo corner that displays variety of wild animals and birds.
Gafur Gulyam Park Location
Gafur Gulyam Park Facilities
Gafur Gulyam Park Address
Street Address:
21, Bunyodkor Street
City :
Tashkent
Country :
Uzbekistan
Telephone :
+99871 2772548