Farhad Farmers' Market
About Farhad Farmers' Market
Welcome to Farhad Farmers' Market in Tashkent. Here you will find information, view photos and read tourist reviews of Farhad Farmers' Market in Tashkent. If you really want a fancy shopping experience in Tashkent, browse our list of markets in Tashkent. Take a time to look at our list of shopping destinations in Tashkent.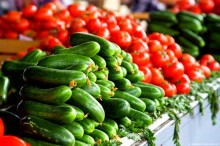 Farkhad Bazaar is located in one of the most densely populated districts of Tashkent – Chilanzar. None of oriental bazaar is complete without an abundance of fresh produce, a variety of different cakes, colorful and luscious spices, as well as an integral part of the trade – the seller. Farkhad bazaar is no exception to the rule.
Here you will find  exclusively offers and if you are in the mood then bargain with pleasure.  The most interesting place in Farkhad farmer's market is colorful and fragrant rows of oriental spices. No one person can not go past them. And there should be an experienced cook to choose the spices.
Another place that distinguishes the Oriental bazaar from the European markets is a section of dried fruits and nuts. Anyone who has ever visited the bazaar, did not leave without buying some selections of dried fruits. Whole mountains of dried fruits and nuts, will not leave you indifferent.
Farhad Farmers' Market Location
Farhad Farmers' Market Facilities
Farhad Farmers' Market Address
Street Address:
Farkhad Street
City :
Tashkent
Country :
Uzbekistan
Telephone :
+998 71 2173674