Europa Exclusive Boutique
About Europa Exclusive Boutique
Welcome to Europa Exclusive Boutique in Tashkent. Here you will find information, view photos and read tourist reviews of Europa Exclusive Boutique in Tashkent. If you really want a fancy shopping experience in Tashkent, browse our list of boutiques and brand shops in Tashkent. Take a time to look at our list of shopping destinations in Tashkent.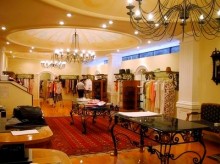 The history of the "Europa Exclusive" boutique started in 1994 as a small shop of menswear that was opened in the centre of city. It was the only store in Uzbekistan offering high class garments of the European manufacturers at that time. In short time the boutique became well-known and famous amongst its clientele in Tashkent.
Europa Exclusive offers only the exclusive models produced by famous fashion houses including French fashion houses such as Pierre Balmain, Lanvin, Karl Lagerfeld, Francesco Smalto and Dormeuil, and worldwide-known Italian fashion houses:  Brioni, Canali, SaintAndrews, Attolini, Balantyne, Fedeli, Avon Celli and others.
The ladies hall present the exquisite and stylish garments of the Cerruti 1881, Brioni, Byblos Blu, Escada brands for modern women who appreciating the quality and style. During the next few years the cooperation agreements with famous brands like Celine, Etro, Lanvin, Barbara Bui, DVF, M.Kors, Temperley, and Fendi were signed. Their high-quality and fashion garments are available in the boutique throughout the year.
Nowadays the "Europa Exclusive" boutiques offer and provide garments made to personal measurements. Brioni, Canali, SaintAndrews produce overcoats, suits, jackets, shirts and some other garments made to your taste, needs and wants.
Europa Exclusive Boutique Location
Europa Exclusive Boutique Facilities
Europa Exclusive Boutique Address
Street Address:
65, Pushkin Street
City :
Tashkent
Country :
Uzbekistan
Telephone :
(+998 71) 137 11 11
Web:
www.europa-exclusive.com
Email:
office@europa-exclusive.com