Breakfast
Tashekent's best breakfasts and brunches

Where to have a nice breakfast in Tashkent?
Eating out at breakfast time in Tashkent is a lot more fun than just fried food or toast. Find out where you can find the best breakfasts in Tashkent.
The Uzbeks are known to be a nation of early risers. Most people here wake up at the call to prayer in the early morning. Breakfast time is a matter of special importance for Uzbeks; maybe that's why they celebrate many family events and weddings during the dawn.
Restaurants and Coffee Shops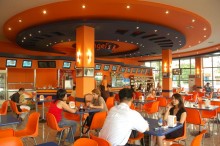 Angels Food
The famous and the first fast food cafe in Tashkent. «Angel's Food» is the best known among fans of cafe for tasty food and quick service. What makes "Angel's Food" in Tashkent different from normal fast-food cafe is its wide selection of menu comprised by various main courses and salads, pastries and cakes.
Here you will find some interesting and unique ideas on where to have a breakfast in Tashkent.
HAVE YOUR BREAKFAST AT YOUR HOTEL
Almost all hotels in Tashkent serve a breakfast. If you stay in a hotel, it is best to have your breakfast in the hotel where you stay as in most cases they are included in your room rate. Even if you don't stay in a hotel, you may just visit the restaurant to have your breakfast at extra charge. Most hotels serve continental, American or Turkish breakfast.
GO TO LOCAL COFFEE SHOP
You may find coffee shops a good option to have a breakfast in Tashkent. Browse our list below to find the best coffee shops located in your area.
EXPERIENCE A REAL UZBEK BREAKFAST
Visit the local bakehouse (locally called as nonvoy, novvoy) early in the morning and buy a piece of freshly baked Uzbek breads. The bread (naan) served with butter or cream is yummy.
BREAKFAST AS A SOCIAL OCCASION
Breakfast is a kind of social occasion in Tashkent. Families who eat breakfast as a group benefit from this important extra social interaction, particularly if the family doesn't always eat dinner together. Most people celebrate the special and family occasions, such as weddings and jubilees in the morning during the breakfast time. On such occasions Uzbeks invite hundreds of guests to a restaurant or meeting venue, where they serve traditional pilaf. If you see a hundreds of people gathered in the early morning at a banquet hall, locally known as toyhona (celebrations room), take a time to visit, they will always welcome you.