Clun Castle Pub
Welcome to Clun Castle Pub&Restaurant in Tashkent. Here you will find information, view photos and read tourist reviews of Clun Castle Pub in Tashkent.

Clun Castle  restaurant is located in the Risoviy district, really hits by its grandeur and beauty. Clun Castle is not only design, original interior, but also a wide selection of dishes. Menu of this restaurant is striking in its relevance and ingenuity of chefs. All the dishes served in the restaurant are made exclusively from fresh ingredients, and all kinds of steaks and barbecue will satisfy lovers of culinary delights.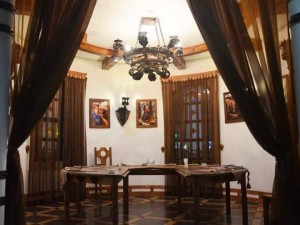 The interior of the three-story Clun Castle is amazing and transfers you into the time of noble knights of the round table: wrought iron lattice is handmade and lights as flares, massive wooden tables and benches and chairs with high backs all, as then, in the Middle Ages. The first floor is reserved for Clun Castle pub.
Live music, scotch, whiskey reign here and as courtiers, cocktails of all sorts and kinds. Pictures of famous movie characters hang on the wall: a fighter for justice Robin Hood and invincible knight Lancelot, King Arthur and Richard the Lionheart, and the ladies of their hearts – Guinevere and Maid Marian. On the second floor there is a restaurant with separate areas, themed rooms, where you can relax with family or friends: men most likely prefer to spend time in a room at the knightly table and feel like subjects of King Arthur.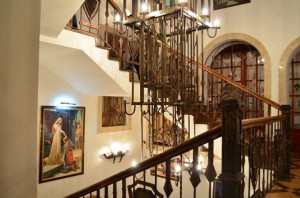 Other room is devoted to hunting wild animals as part of the lives of kings and courtiers of the time. The next room is painted airbrushing, reveals the secrets of Celtic mythology, it truly captures the spirit of the ancient Celts, who believed in the forest nymphs, fairies, wizards. VIP zone has a fireplace room, where you can settle in comfortably cushioned lounge chairs, shielded from the surrounding bustle and bask in a real fire in the fireplace. Bright original feature of Clun Castle is a summer terrace on the third level of the castle. Open sky overhead and strong walls around – everything you need to present adventurer.
Clun Castle Pub Location
Clun Castle Pub Facilities
Clun Castle Pub Address
Street Address:
Mirabad dist., 3 A, Fitrat str
City :
Country :
Uzbekistan
Telephone :
+99871 2930001, +99893 5070022
Web:
www facebook.com/cluncastle.tashkent
Email:
www.facebook.com/cluncastle.tashkent