Chorsu Bazaar
Description
About Chorsu Bazaar
Welcome to Chorsu Bazaar in Tashkent. Here you will find information, view photos and read tourist reviews of Chorsu Bazaar in Tashkent. If you really want a fancy shopping experience in Tashkent, browse our list of markets in Tashkent. Take a time to look at our list of shopping destinations in Tashkent.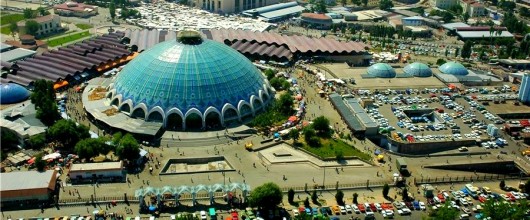 For real oriental shopping experience  explore the largest market that carry more choices of goods and wares, Chorsu Bazaar.
Chorsu Bazaar is located behind a distinctly looking 16th century Kukeldash Madrassah and the Friday Mosque in Tashkent.
For many centuries Chorsu bazaar have been one of the busiest bazaars in Central Asia, since it is located on the Silk route. The location hasn't changed in all these years but the old buildings have been replaced by modern ones. But here, locals still source for spices, vegetables, dried fruits, traditional and modern apparel, including carpets.
This world-famous bazaar specializes in everything from jewelry, ceramics, pottery, national costumes, housewares and much-more. It is always bustling and well worth visit even if you do not intend to buy.
The Chorsu Bazaar has a vast open-air market where you'll find carefully woven carpets sit next to glistening ceramics, which in turn are neighbors of shiny watermelons, plump raisins and juicy apricots.
Lots of kinds of spices! Ginger, and saffron, black pepper and more. Mountains of dried fruits are located under the big turquoise cupola. These are unusual but guaranteed-to-please gift for friends back home.
There are shoe stores and handicraft shops, stalls that sell traditional clothes and row after row of stalls selling national tyuboteyka, the traditional Uzbek men's cap. You'll also find many choykhana or 'tea houses' where you can stop to have a hot tea and shashlyk kebabs.
Like most markets in Tashkent it is open every day of the week from early morning and late in the evening.
Chorsu Bazaar Location
Chorsu Bazaar Facilities
Chorsu Bazaar Address