Chilanzar Clothes Market (Hippodrome)
About Chilanzar Clothes Market (Hippodrome)
Welcome to Chilanzar Clothes Market (Hippodrome) in Tashkent. Here you will find information, view photos and read tourist reviews of Chilanzar Clothes Market (Hippodrome) in Tashkent. If you really want a fancy shopping experience in Tashkent, browse our list of markets in Tashkent. Take a time to look at our list of shopping destinations in Tashkent.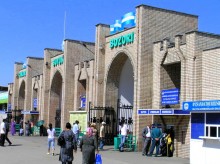 The largest covered, crowded and famous market in Tashkent is located far from the centre. As well as fashionable and cheap clothing, it's also great for household goods.  Practise your haggling skills at Hippodome bazaar. The name comes from the horse riding place which is located near the Bazaar. The market is mainly known for a large range of goods and cheaper prices. In Hippodrome market, you can buy a relatively inexpensive children's toys, appliances, household products, clothes and many more things.The market is huge and takes many hours to see the whole market.
The Chilanzar Clothes Market is split into three zones which makes it easier to orientate oneself in such a large market. There are a section of national fabrics of various colors, section of carpets and household accessories, department of clothing and footwear. The clothing section consists of two parts, called Korean and Uzbek market. The difference from each other is the price. If the Korean side of the clothes are expensive, the Uzbek Market offers clothes many times cheaper.
What else makes the Hippodrome a popular market is its location. The bazaar is close to another huge markets – Abu Sahiy and Bek Baraka.
Chilanzar Clothes Market (Hippodrome) Location
Chilanzar Clothes Market (Hippodrome) Facilities
Chilanzar Clothes Market (Hippodrome) Address
Street Address:
156A, Bunyodkor Avenue
City :
Tashkent
Country :
Uzbekistan
Telephone :
+99871 2797302