Centre of National Arts
About Centre of National Arts
Welcome to Centre of National Arts in Tashkent. Here you will find information, view photos and read tourist reviews of Centre of National Arts in Tashkent.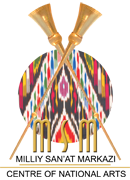 One of the famous cultural organizations of Uzbekistan – Fund Forum has realized the idea to collect samples of the national culture, art and traditions of Uzbek people under the dome of the Centre of National Arts in Tashkent. It became the place to promote and exhibit the customs, art, crafts and way of life of the Uzbeks. The Centre of National Arts in Tashkent focuses both on traditional and the modern art of Uzbekistan – painting, sculpture, graphics, design, cinema, theater, national dance, weaving. In this center, which is located near the famous Chorsu Bazaar, another cultural hub of Tashkent, you can find works of well-known folk artists, the younger generation of artists and those who are promoting Uzbek culture and representing the country at international exhibitions and festivals.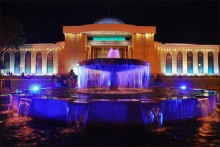 Throughout the year, National Arts Centre's exhibition hall organizes various events. So whenever you visit the center, you may witness one of the top cultural activities in the city, including exhibitions of traditional and modern art with the participation of foreign artists, fashion shows, youth action and much more.
Grand Scene of National Dance of the Centre of National Arts regularly organize show programs including a dance performance by the theater of modern dance "Ofarin", presentation of folk and ethnic Uzbek clothing by Fashion Theatre, as well as seasonal collection of the House of Style.
The Centre of National Arts in Tashkent is also home to the workshops of the craftsmen, including gold embroiderers, potters, miniature and mint masters, carpet weavers, woodcarving and jewelry masters.
Along with this, the center promotes the culinary traditions of Uzbekistan. Here you can taste the best selections of Uzbek and world cuisine.
The Centre of National Arts is one of the best sights of Tashkent, which allows simultaneous touch with many different areas of the unique culture of the Uzbek people, representing all regions of Uzbekistan.
Centre of National Arts Location
Centre of National Arts Facilities
Centre of National Arts Address
Street Address:
Zarqaynar Street
City :
Tashkent
Country :
Uzbekistan
Telephone :
+ 998 71 150-40-12, 150-40-13