Central Asian Plov Center
About Central Asian Plov Center
Welcome to Central Asian Plov Center in Tashkent. Here you will find information, view photos and read tourist reviews of Central Asian Plov Center in Tashkent.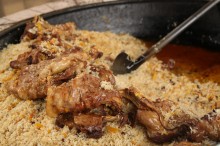 Tashkent's famous Center Asian Plov Center recently moved into new premises – Hilol Restaurant at the TV tower. Central Asian Plov Cente's atmosphere is colorful. Seen from the outside, it looks like a campground with a half dozen sooty black cauldrons boiling on the open fires. This is the place to eat plov, the national dish. It is cooked outside by men using enormous stone cauldrons filled with oily rice, beef or lamb,  horse-meat sausage, lamb fat, with boiled eggs to garnish. Charles Perry, a culinary historian, admits that Central Asian lamb fat is tasty (it doesn't stick to the roof of your mouth like the lamb fat you're familiar with). Though it won't suit every stomach, but at only around $3 a plate, pilaf is cheap and popular.
Best time to visit Central Asian Plov Center is before 12. The center serves only pilaf, tea and salads. No beer, no wine.
Central Asian Plov Center Location
Central Asian Plov Center Facilities
Central Asian Plov Center Address