Karavan Bazaar
Welcome to Karavan Bazaar in Tashkent. Here you will find information, view photos and read tourist reviews of Karavan Bazaar in Tashkent. If you really want a fancy shopping experience in Tashkent, browse our list of markets in Tashkent. Take a time to look at our list of shopping destinations in Tashkent.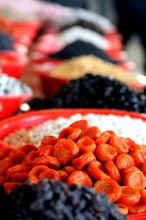 Once the Karavan bazaar (Urikzar) was the cheapest food market in Tashkent. Now the prices become equal. This market is used mainly wholesale buyers (dealers). It should be noted that the market itself is divided into several sectors: construction, food, machinery and electronics sector, carpet and clothing.
With its size caravan market is unique in Tashkent. You take a whole day just to bypass the food sector with numerous slides of rice, cabbage, watermelons and melons. In this market you can buy everything for the home, so it is very popular among the townspeople.
Karavan Bazaar Location
Karavan Bazaar Facilities
Karavan Bazaar Address