Broadway
Welcome to Broadway in Tashkent. Here you will find information, view photos and read tourist reviews of Broadway in Tashkent. If you really want a fancy shopping experience in Tashkent, browse our list of places to buy arts, jewelry and luxury items in Tashkent. Take a time to look at our list of shopping destinations in Tashkent.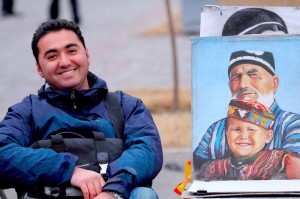 Sailgokh Street, known locally as 'Broadway', has some street artists and painters, who display their original artworks. The Broadway street is in the very center of Tashkent and connects two main squares of the city, Amir Temur and Independent squares.
There are many shopping centers, fashion shops, boutiques, restaurants, and cafes are located on and around the Broadway in Tashkent. Here you may also pick up some handmade crafts, souvenirs and bric-a-bracs.
Tashkent's Broadway is also one of the greenest parks in the city with a huge area of shady trees and beautiful fountains.
Broadway Location
Broadway Facilities
Broadway Address