Botanical Garden
Welcome to Botanical Garden in Tashkent. Here you will find information, view photos and read tourist reviews of Botanical Garden in Tashkent.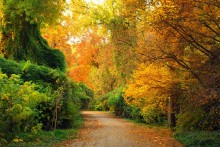 Botanic Garden of the Academy of Sciences in Tashkent – the oldest botanical garden in Uzbekistan and its origin dates back to 1920. It is located next to the Tashkent Zoo in north-eastern part of Tashkent.
The total area of the Botanical Gardens – 66 hectares. Arboretum of the garden occupies 40 hectares and consists of exhibitions dendroflora of East Asia, North America, Central Asia, the Far East, Europe, Crimea and the Caucasus.
Collection of the Botanical Garden are of more than 4500 species, forms, varieties and species of trees, shrubs, dwarf shrubs, vines, grasses and aquatic plants.
Botanic Garden in Tashkent – it's an open air museum, a national treasure and the pride of the country and science.
Tashkent Botanical Garden : Autumn
Botanical Garden Location
Botanical Garden Facilities
Botanical Garden Address
Street Address:
232, Bog`ishamol Street
City :
Tashkent
Country :
Uzbekistan
Telephone :
+998 71 2891060; 2890465
Email:
academy@academy.uznet.net