Bon! French Coffee Shops
About Bon! French Coffee Shops
Welcome to Bon! French Coffee Shops in Tashkent. Here you will find information, view photos and read tourist reviews of Bon! French Coffee Shops in Tashkent.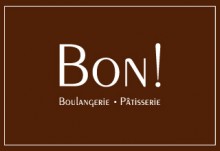 Bon! coffee shops in Tashkent is a place where you can start the day with a healthy breakfast, meet with collegues for a business lunch or sit with your loved one over a cup of coffee with a sweet dessert in the evening.
These are very exciting times for Bon! with three very successful French patisserie which are already in business. Bon! coffee shops in Tashkent have brought the flavours of traditional French bakeries to the contemporary streets of Tashkent, and take great pride in delivering the best bakery, pastry and coffee produce around.
Bon's qualified European experts train local staff in the traditions of French cuisine and ensure that all aspects of our service and surrounds are authentic. Bon! coffee shops in Tashkent have a delicious range of traditional French recipes and a menu that encompasses: breads, sandwiches, pancakes, waffles, ice cream, all accompanied by the finest teas, coffees or fresh juices. Come and visit Bon! coffee shops in Tashkent and sample our chic décor and take-away the finest French fancies in beautifully packaged parcels – c'est trés, trés Bon!
Bon! Chimkentskaya. It is typically French designed coffee shop, with big terrace outside, where you may stay in open air and enjoy your cup of fresh coffee and marvelous croissants, chocolate-filled croissants and other pastries, and even have savory sandwiches. There is underground area as well, very cozy hall with comfortable wooden furniture.
Bon! Rustaveli. Spacious place with big sitting area, black&white photos of France on the walls and many other small things that give truly unforgettable feelings. On the right side there is attractive vitrine, which is full of delicious French pastries and bread. This place have undoubtedly unique atmosphere.
Bon! Chekhova. Very small place, but the most popular place. Main workshop is located right there and has the biggest assortment of pastries. It has small sitting area inside and small terrace.
You may have a closer look to our Bon! Menu.
Bon! French Coffee Shops Location
Bon! French Coffee Shops Facilities
Bon! French Coffee Shops Address
Street Address:
21, Chimkent Street, Tashkent, 63, Sh. Rustaveli str. Tashkent 40, Chehov Street, Tashkent
City :
Tashkent
Country :
Uzbekistan
Telephone :
(+99871) 280-5116, 150-18-33, 256-34-04
Web:
www.abnmb.uz
Email:
bon@abnmb.uz