Bek Baraka Wholesale Market
About Bek Baraka Wholesale Market
Welcome to Bek Baraka Wholesale Market in Tashkent. Here you will find information, view photos and read tourist reviews of Bek Baraka Wholesale Market in Tashkent. If you really want a fancy shopping experience in Tashkent, browse our list of markets in Tashkent. Take a time to look at our list of shopping destinations in Tashkent.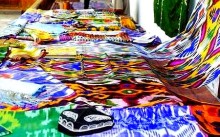 Locally known as wholesale clothes market. It is one of the newest bazaars in Tashkent, since Bek Baraka trading complex started its activity in January 2011. The total area of the bazaar is 6.5 hectares. It is is located in the outskirts of Tashkent, opposite to the Chilanzar Clothing Market and Abu Sahiy market in Tashkent.
The first pavilion, consisting of 275 shops sell food products, the second pavilion, consisting of 350 shops, sells industrial products and the third pavilion, which includes 200 retail outlets, offers a home appliances and consumer goods.
Contact us and get our designed shopping tours to Tashkent. Use our Live Chat to contact our travel consultants, who will be happy to share their knowledge and experiences of shopping in the markets of Uzbekistan.
Bek Baraka Wholesale Market Location
Bek Baraka Wholesale Market Facilities
Bek Baraka Wholesale Market Address