Bahor Restaurant
Welcome to Bahor Restaurant in Tashkent. Here you will find information, view photos and read tourist reviews of Bahor Restaurant in Tashkent.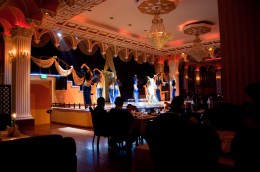 Restaurant BAHOR – the place of splendid comfort, delicacy and elegancy! The Restaurant Bahor has been getting stronger and stronger through its fifty years of existence. Both metropolitan and the city's guests may dully estimate the combination of fine Oriental ornament and European style elements gently drilling through the Restaurant's atmosphere. The crystal chandeliers, elegant lightlng, mahogany furniture, windows with gorgeous curtains, paintings on the walls, edge moldings in the Restaurant and all those make one feel like being transferred into other worlds.
There is a live music program each night The Restaurant's band offers differnt musical genres from jazz to romance, classic to disco.  The performance of "BAHOR" Modern Dance Theater will amaze the guests.
A huge assortment of menu can meet any caprice. Arabic, European, Indian, Uzbek, Italian, Chinese, Mediterranean, Turkish – these are just part of cuisine served in Bahor Restaurant.
Bahor Restaurant Location
Bahor Restaurant Facilities
Bahor Restaurant Address
Street Address:
8, Ahunbabaev street
City :
Tashkent
Country :
Uzbekistan
Telephone :
+998 71 233 7263
Web:
www.rbahor.uz
Email:
Bahor.manager@gmail.com