Askia Farmer's Market
About Askia Farmer's Market
Welcome to Askia Farmer's Market in Tashkent. Here you will find information, view photos and read tourist reviews of Askia Farmer's Market in Tashkent. If you really want a fancy shopping experience in Tashkent, browse our list of markets in Tashkent. Take a time to look at our list of shopping destinations in Tashkent.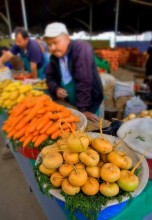 If you are looking for a general flea market, Askia Market in Tashkent is ideal as it has a vast hotch-potch of stalls. The market is located close to the Babur Recreation Park in Tashkent. Traders here sell everything imaginable: food, furniture, kitchen appliances, DVDs and general bric-a-brac.
Contact us and get our designed shopping tours to Tashkent. Use our Live Chat to contact our travel consultants, who will be happy to share their knowledge and experiences of shopping in the markets of Uzbekistan.
Askia Farmer's Market Location
Askia Farmer's Market Facilities
Askia Farmer's Market Address
Street Address:
52A, Usman Nasir Street
City :
Tashkent
Country :
Uzbekistan
Telephone :
+99871 2552377